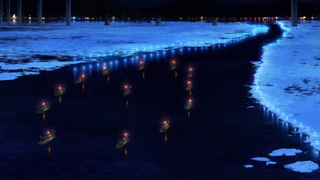 The Ofunehiki (お船引) is a ceremony usually conducted in harmony with the people of Shioshishio and the residents of Oshiooshi.
The ceremony started long ago in the past. When the Sea God was unhappy and began to wreak havoc on the surface world. In response to this the citizens of Oshiooshi send a women out to sea as a "sacrifice" (Since known as The Lady Ojoshi. Because of this sacrifice the world became calm and was a peace.
Recent History
Edit
Since the original Ofunehiki ceremony the citizens don't send a person, instead they send out a wooden statue of the original "Lady Ojoshi" along with other hand-crafted things.