Episode 14 - "The Promised Day"
Hikari wakes up, after 5 years
Season 2, Episode 14

Vital statistics

Air date
January 9, 2014
Written by
Mari Okada
Directed by
Toshiya Shinohara

Episode guide

Previous
Next
Episode 13
Episode 15

The Promised Day is the 14th episode of the Nagi no Asu Kara anime. It aired on January 9th, 2014.
Five years later, the sea over Shioshishio is frozen and the surface enters into a continued winter. Chisaki pays a visit to Tsumugu's grandfather Isamu at the hospital before returning to meet Akari and her son, Akira. In the occasion, they reminisce about how Miuna cheered Akari up after she had found out that she was pregnant and was too worried about Hikari and the others to be happy with it. Meanwhile at the school, the students are informed that a Tomoebi will occur over the sea and they decide to have a party at the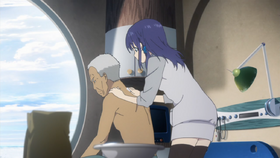 shore when Miuna is warned by Sayu that one of their classmates intends to confess to her in the occasion. It is also revealed that after being shut out from home, Chisaki is taken in at Tsumugu's house by Isamu and they live together until Isamu gets hospitalized and Tsumugu leaves to study oceanography at the college in order to learn more about the situation at the sea villages and their connection with the climate changes at the rest of the world. During the Tomoebi, Miuna is asked out by her friend, but she 
declines, claiming that she likes someone else, when a strange light appears and Tsumugu, who is studying the phenomena with his teacher, meets Miuna at the place where the light appeared and they find a naked Hikari, who did not get older at all since that day.